Cherokee County Sheriff's Office, Alabama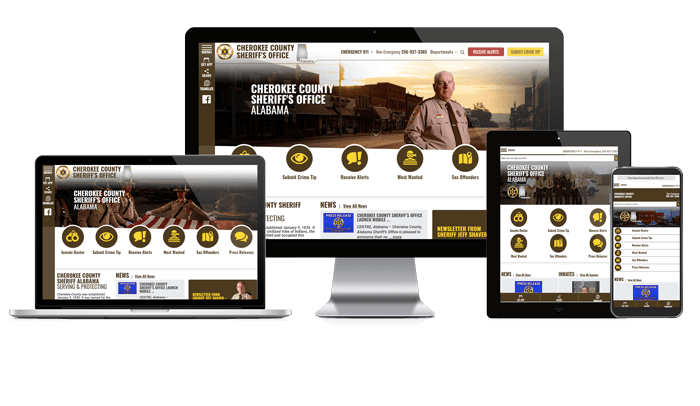 Centre, AL
256.927.3365
CherokeeCountyAlSheriff.com


---
"After trying unsuccessfully for several years to find someone willing to help develop a website for the Sheriff's Office I met the Brooks Jeffrey team. The website they built for the Sheriff's Office has been a tremendous benefit for the Sheriff's Office and the community. The staff is always readily available and eager to assist with new ideas. One of my best decisions as Sheriff was to partner with the people of Brooks Jeffrey; the website has given us a fantastic way to communicate with the public we serve."
- Cherokee County Alabama Sheriff Jeff Shaver
---
"To whom it may concern,

Just wanted to compliment your department on your website. I am the newspaper editor in Pike County, Ky., the county with which you guys worked on the apprehension of [a wanted criminal]. I went to your website this morning to find a number to call to get the details of [their] arrest and found very quickly I didn't need to make a call, and that you guys had issued a complete statement, with a photo, on the arrest.
It's always good when an agency has that level of cooperation with the media and I just wanted to say I appreciated it."
- Appalachian News-Express Editor Russ Cassady
---